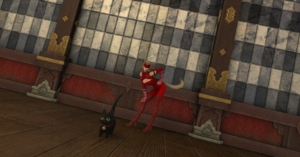 Happy Spooktober! It is time for our annual Halloween Glamour contest. Submit in the #halloween-contest discord channel by midnight (EST) on Saturday, October 30th for a chance to win!
We will be having a movie night in Discord 9PST/Midnight EST on October 30th and will be sending out the winners during that
This year's prizes include Halloween themed Mogstation prizes for 1st and 2nd place. To see which items on the Mogstation are available filter by the All Items Category and select "All Saint's Wake"
1. Mount or Minion/costume
2. Minion or costume
3. 500,000 Gil
No Fantasias are allowed for our glam contests to keep it fair.
Halloween Glam Contest! (And Movie Night)